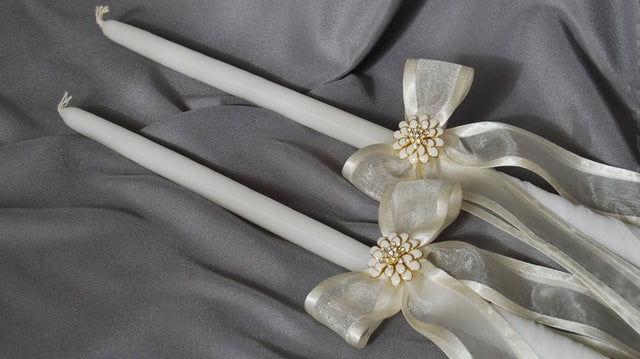 Wedding-Γαμος
Wedding Candles (Lambathes)
The couple holds the Wedding Candles (Lambathes) and their flame should remind them that Christ will be the guiding light in their lives.  
Trying to provide unique gifts,  I always care for quality and details. 
Wedding Crowns (Stefana)
The church crowns the couple with glory – King and Queen, masters over sin and passion – united in Christ forever.  
For my stefana, I use highest quality material. Each piece is carefully design and created by Yianna
Baptism-Βαπτιση
Baptismal Candles (Lambathes)
Their flame reminds us of Christ, who is the Light of the World and illuminates our daily life.
 For my Lambathes, I use top quality material.  I honor our Orthodox traditions and the same time, I carefully try to add a contemporary touch.